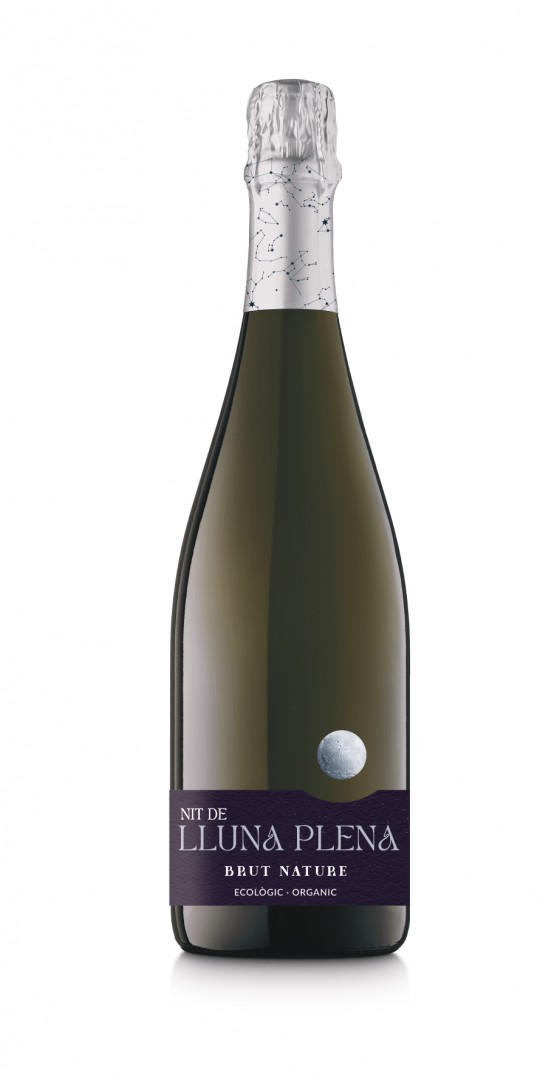 Cava FULL MOON
Eclipsed beauty
"Playful, dazzling and passionate"
ORIGIN •
D.O. CAVA •
The organic vineyards that become Full Moon have the Cava
Certificate of Origin, specifically from the Comtats de Barcelona
area in Catalonia.

VARIETIES
Macabeo, Xarel·lo and Parellada.
CREATION AND AGEING
The grape harvest is done separately depending on each variety,
looking for the balance between acidity and aromatic potential
to get an organic cava-based wine. The Xarel·lo and Parellada
varieties contribute more aromatic intensity, while the
Macabeo helps integrate and round off the final blend.
Fermentation is done in stainless steel tanks at a controlled low
temperature.
Once the cava-based wine is created, it is subjected to a second
fermentation in the bottle, with the corresponding addition of
tirage, using the champenoise method.
The second fermentation takes place in the bottles, and they are
subsequently aged in stacks in controlled humidity and
temperature conditions for at least 24 months. This period of
ageing gives it the category of "Guarda Superior Reserva".
Finally, riddling and disgorgement are performed.
It is a Brut Nature cava; therefore, no expedition liqueur is
added and the concentration of sugars varies between 0 and
3g/L.
TASTING NOTES
Pale yellow in colour with green reflections. Fine, lively bubble
that has a pleasant sensation on the palate.
In nose, the aromas of brioche and yeast are highlighted,
accompanied by aromas of white flowers and also fruity notes of
pineapple, pear and lemon. In the finish, the white flower
aromas are better appreciated, and very subtle hints of aniseed
appear.
On the palate, it is a very fresh sparkling wine where the
aromas of lemon, pear and aniseed are intensified. It has a
creamy finish and very pleasant persistence.
SERVING SUGGESTION
Ideal with all kinds of savoury and/or fatty dishes such as, for
example, rice stews, fideuà noodles, salmon tartar, all kinds of
cold meats, prawns, clams, coquina clams and oysters.
The optimum serving temperature is between 4-8oC.
ANALYTICAL CHARACTERISTICS
Excess pressure (bar): 6 - Proof (% Vol.): 11.6 – Total acidity
(g/L H2T): 5.7 – Residual sugars (g/L): 0-3.