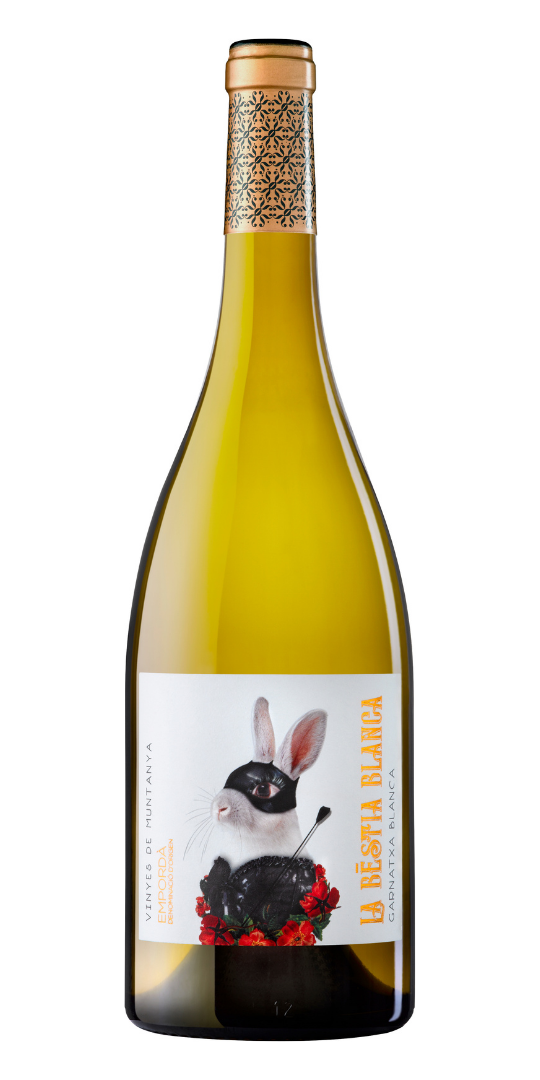 La bèstia blanca
"Wild, smooth and elegant"
ORIGIN • DO EMPORDÀ •
At the foot of the Albera hills, in stony, mineral ground where the Tramontana wind sweeps all before it, the Garnatxa Blanca vines rise up like wild animals to overcome all the obstacles. Their fighting spirit produces highly concentrated grapes in small quantities, winning a battle that results in an unstoppable beast.
VARIETIES
100% White Grenache.
PRODUCTION AND AGEING
Harvesting at the ideal point of ripening. Fermentation at controlled temperature (18ªC) to extract an excellent floral and fruity content. Once fermented, a small part of wine is aged for 2 months in new American oak casks with its lees. This process is accompanied by weekly battonage to improve its structure, increase its creaminess and provide more aromatic complexity. When ageing is complete, the wine is clarifies, stabilised and filtered ready for bottling.
TASTING NOTES
Intense, bright yellow colour, with notable aromas of white flowers finely balanced with the fruit notes of yellow peach and apricot and a background of tropical fruit aromas like pineapple. The small part of the wine aged in casks provides aromas of coconut, almond, toast or wood. Aromatically it is complex and very pleasant.
In the mouth the floral, fruit and vanilla notes intensify, accompanied by good acidity and seductive creaminess. It has delightfully long and silky persistence. This is a wine with beastly intensity. If you surrender to its will, the Bestia Blanca will give you a whiplash of pleasure.
SERVING
Ideal for accompanying all types of fish and seafood, such as baked gilthead bream or fried forkbeard. It goes very well with Mediterranean rice dishes, mild sausages and white meats. Ideal temperature 8ºC-10ªC.
ANALYTICAL CHARACTERISTICS
Alcoholic degree: 12,5 (%Vol).
AWARDS
Silver medal at "Grenaches du Monde 2022" (France).
GOLD medal at "Grenaches du Monde 2023" (França).
Silver Vinari Medal at " Premis Vinari dels Vins Catalans 2023".