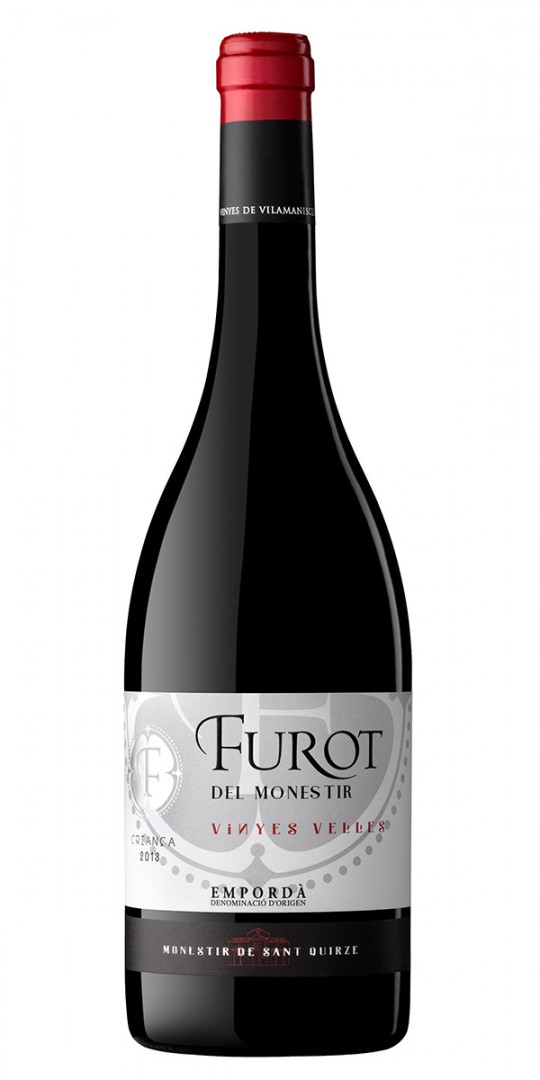 Furot del Monestir
The roots of Empordà!
"Powerful, rustic, complex"
ORIGIN • DO EMPORDÀ •
Situated in the most north-eastern part of Catalonia and at the foot of the Albera Mountains, we come across the small town of Vilamaniscle. The town elders comment that the roots of Empordà lie here, a testimony to the passage of time, where some have managed to maintain their old vineyards, from generation to generation, fighting the steep slopes, the Tramontane wind and the shale.
As we are very close to the Sant Quirze de Colera Monastery, we would like to pay a small tribute to the place accompanying the name of the FUROT estate.
VARIETIES
Old-vine Carignan with a hint of Cabernet Sauvignon.
WINE-MAKING AND AGEING
Grape-picking begins at the end of September and is done manually. At the winery, there is a second selection of the grape on the sorting table. The wine is made traditionally with long macerations at a controlled temperature.
The ageing process lasts 15 months in American-oak barrels.
TASTING NOTES
The stony land lacking in organic matter and the mountain micro-climate characterised by the strong Tramontane wind means the plant has to protect itself by growing deep roots and producing little: so so we get a small and highly concentrated grape able to transmit all the complexity of the "terroir".
Cherry colour with hints of brick red.
Lively and intense on the nose with well-integrated oak aromas that lead to a spicy, mineral background that comes from the earth – the main feature of FUROT del MONESTIR.
In the mouth, it is slippery and powerful with a daring complexity, hints of ripe plum and balsamic flavours of Albera Mountain grass. It has a long, balanced end, where the enjoyment of its mild tannin shows us the capacity it still has for ageing.
PAIRING AND SERVING
The perfect dish to accompany this wine would be jugged boar, which would also be a good way to control the numbers of this animal that stirs up so much trouble for us. Remarks aside, it goes well with all types of casseroles, red meat, slow-cooked pulses, cured cheeses and, ultimately, Mediterranean dishes with personality that are capable of accompanying a big wine.
Optimum serving temperature: 16°C-18°C. The bottle should be opened 30 minutes before drinking for correct oxygenation.
ANALYSIS
Alcohol content: 13.7 (% vol) – Total acidity (T.A.): 5.5g/l.
AWARDS
SILVER medal winner at "Concours International de Lyon 2018" (France).
GOLD medal winer at "Sommelier Wine Awards 2019" (United Kingdom).
GOLD medal at "Wine Expo Poland Awards 2020" (Poland).